Laser Therapy for Neuropathy in Abbeville, SC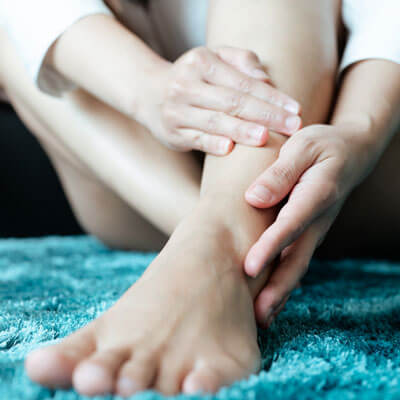 At Abbeville Family Healthcare, we're dedicated to offering our patients the latest and greatest technology to help combat dis-ease in the body. Sometimes, that goes beyond other techniques and into other modalities.
DO YOU SUFFER FROM ANY OF THESE SYMPTOMS?
Numbness Or Tingling In Hands, Arms, Feet Or Legs?
Extreme Sensitivity To Touch?
Lack Of Coordination?
Sharp, Jabbing, Throbbing, Freezing Or Burning Pain?
Muscle Weakness Or Paralysis?
WHAT IS NEUROPATHY?
Neuropathy is commonly referred to as a disease of the peripheral nerves, which may cause symptoms like weakness, pain, numbness, tingling and more. People who may be at risk of developing this condition are those with autoimmune disorders, diabetes, individuals going through chemotherapy, and senior citizens among others. Nationwide, it's estimated that over 42 million Americans suffer from the disease every day.
FREE NEUROPATHY CONSULTATION – SCHEDULE NOW »

ARE YOU IN PAIN?
We're proud to offer patients suffering from neuropathy symptoms real relief with focused, gentle, non-invasive laser therapy.
COMMON CAUSES
Diabetes, chemotherapy, poor nutrition, degenerative conditions and more.
SOLUTION
What if there was a solution that may be able treat your neuropathy pain without drugs or surgery?
WE OFFER A NEW SOLUTION TO NEUROPATHY PAIN
We have developed a unique clinical treatment that combines a drug-free, non-surgical approach with the most advanced NEUROPATHY PAIN RELIEF TECHNOLOGY available. Many patients are seeing great results, even those who have "tried everything" before.
THERE MAY BE HOPE FOR YOU
Our treatment works for a wide variety of conditions. If you are suffering with neuropathy, there may be hope! Schedule your Complimentary Consultation today.
DO YOU HAVE CHRONIC PAIN?
Do you have chronic neuropathy that you have been told you have to live with?
HAVE YOU TRIED EVERYTHING?
Do you feel like you have tried everything possible, but haven't felt any results? Chiropractic care can help.
DO YOU THINK SURGERY IS YOUR ONLY OPTION?
Have you been told that surgery is your only option? We can eliminate pain and increase mobility, without drugs or surgery.
AFTER TREATMENT, MANY PATIENTS EXPERIENCE:
IMPROVED MOOD
Improve your overall health and regain your vitality for life.
REDUCED MEDICATIONS
Medication and surgery don't have to be the answer.
ACTIVE LIFESTYLE
Stop wasting time in pain and get your active life back!
MEET THE DOCTOR
Dr. Matthew Durham, Chiropractor Abbeville
Contact us today for your FREE Neuropathy Consultation.
---
Laser Therapy for Neuropathy | Abbeville Family Healthcare