Dr. Matthew Durham
Chiropractic Education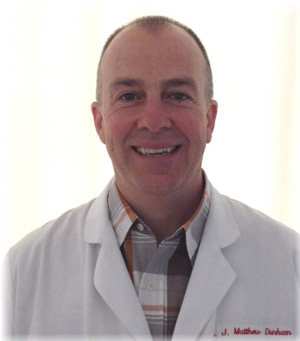 I actually did my undergraduate work at Clemson in Pre-Pharmacy!
Growing up, my best friend's Dad was a medical doctor. He used to let us go with him on House Calls and to the Hospital with him sometimes. That is when I started thinking about helping others as a career. He had a great reputation as a skilled physician, but it was my chiropractor that got me on track to think about being a doctor of chiropractic. I liked the fact that chiropractic was more of a natural approach to health care.
I did my undergraduate work at Clemson and then went to Life Chiropractic College (now University) in Marietta, Georgia, right outside of Atlanta. I was surprised to find that the chiropractic education was very similar to a medical education. All the basic sciences are the same; we just got into nutrition and adjustments when they got into drugs and surgery.
Wellness Model of Health Care
Our office has truly embraced the wellness model of health care. We concentrate as much on keeping you healthy through a healthy lifestyle as we do on getting you well when you are suffering. We help you get well, stay well, and live well! Whatever your needs and goals are, we will work with you to be successful.
Outside the Office
I am a Grandfather to two sweet little girls. I am happily married to Melissa and we have four great children. Three girls and a boy. And now two Granddaughters! My wife teaches in Greenwood. We live on a farm (www.the2811.com)  where we raise grass-fed beef, free-range eggs, all natural vegetables, all natural honey, and pastured pigs.  We attend New Covenant in Greenwood and love it! If you ever want to come and spend Sunday morning with me and 500 of my closest friends, just let me know.
Regular adjustments are part of my overall health plan for me and my family. I have adjusted all of my children from the day they were born to maintain their spinal health and give them the best chance possible for good health. God has blessed them all with good health. We have chosen not to vaccinate our children because of the health risks associated with vaccinations. My wife and I work out regularly and for the most part we eat a healthy diet. People can't believe that our children have never eaten a McDonald's hamburger!
Enough about me! How can we help you? Please feel free to call our Abbeville office or e-mail me at the link below with any questions you might have. Thanks for stopping by.
Learn More About Chiropractic Care »

---
Chiropractor Abbeville, Greenwood SC | (864) 366-7777